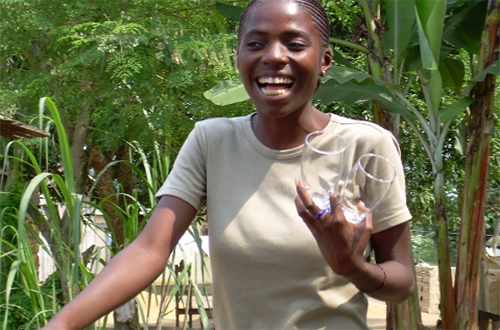 My name is Idélia Costa João, and I'm 21 .
I am a student and trainee teacher from Team 2018 at the ADPP Teacher Training School in Zaire, doing my practice in the Municipality of Nzeto. I have been working with the subject of Art since the beginning of the Jimbuetete project, in which I have learned a lot . When we got into lockdown due to Covid19, things stopped and it delayed me quite a bit in putting into practice what I had already learned. But I have gained many experiences and the hearts of children in the municipality of Nzeto.
At the beginning, it was strange to me because art was not a reality in my own education. But with lessons on methodology, I have achieved good results. We have been painting murals and walls in our neighborhood and I have also been teaching my family to paint. The two hours a day that the children went to the backyard for art lessons were the most important of the day for them and for me. I think I will miss these experiences when the lockdown is over. When I get back to my normal internship area in my class, I already know what to do with music and PE!