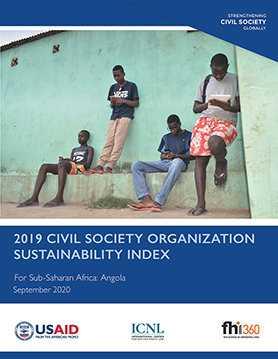 FHI 360 with support from USAID assesses the Civil Society Organization (CSO) Sustainability Index for each country in sub-Saharan Africa. This assesses civil society's capacity to serve both as a short-term partner in implementing development solutions and as a long-term actor to ensure that development outcomes are sustained. This resource allows local civil society to assess the environment in which it is operating and its ability to advocate, operate sustainably and communicate with citizens.
ADPP, as the FHI 360 implementing partner in Angola, convended 8 other CSOs on an expert panel to assess the Angolan CSO sustainability index for 2019. The report explains the status of CSOs in relation to the seven main components: legal environment , organizational capacity, financial viability, advocacy, service delivery, sector infrastructure and public image. It will be a useful resource for local civil society organizations, governments, funders and academics.
It is our pleasure to present the report for 2019 in ENGLISH or PORTUGUESE.