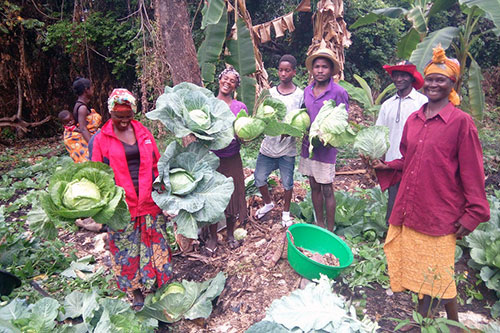 World Food Day on 16 October 2020 marks the 75th anniversary of the Food and Agriculture Organisation of the United Nations (FAO). Under the theme "Grow, Nourish, Sustain. Together," activities across the globe will promote awareness about hunger and the importance of healthy eating.
Increased food production is not a goal in itself. The world already produces sufficient to feed everyone, yet millions are starving or suffering from malnourishment while food waste is increasing, the environment is becoming degraded, natural resources are being depleted and climate change is exacerbated.
ADPP Angola contributes to the daily fight to improve food security in a sustainable way, to improve nutrition and to increase resilience in the face of climatic shocks. Farmers' Clubs and Farmer Field Schools provide smallholders with instruction and assistance in modern, environmentally friendly farming techniques and water-saving irrigation systems. The introduction of horticulture and encouragement to produce greater diversity of foodstuffs helps improve nutrition, while overall increased production results in locally available healthy and affordable food for the wider community.
In connection with World Food Day 2020, which is a springboard for the future, FAO is calling for exceptional measures at an exceptional moment, as the Covid-19 pandemic disrupts food production and the food chain. Innovative solutions, digitalisation, modern technology and e-commerce are mentioned. Reflecting on how easily a medical virus can bring the world to a halt, and how digital technology in rural Angola is as remote as the communities themselves, ADPP Angola is concentrating on simple means to help build resilience among smallholders.
In the Cuvelai Basin, for example, extension workers and Community Action Groups are receiving instruction in adaptation to climate change, while radio programmes in local languages are reaching disperse populations with key messages. Listen to some of the radio programmes here.
Throughout the year anda cross the country, we continue to work with the government, FAO and communities to grow, nourish and sustain, together.