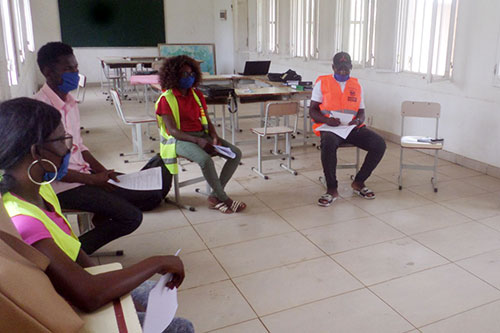 Key staff from all of ADPP's health projects usually gather for quarterly planning sessions at the ADPP Courses and Conferences Centre in Ramiro, Luanda. During the sessions, they monitor and evaluate from the previous quarter, plan activities for the coming quarter, learn more about health issues and community mobilization, check their administrative processes, and- importantly- exchange experiences.
During the State of Emergency, most of ADPP's health projects continue to operate, with staff and activists accredited to do so by the provincial authorities. The need to continue with HIV treatment, to avoid malaria and in general to stay healthy is all the more important during a potential pandemic, and combining routine activities with COVID-19 measure makes sense.
Since it has not been possible to meet physically in Luanda, creative solutions for planning sessions had to be found. The sessions were carried out locally, with lively communication with ADPP project coordination and between the projects. Everybody was challenged to find ways of continuing with project activities, and also incorporating COVID-19 prevention activities. In the gallery below, you can see images of the planning sessions carried out around the country by staff of the following projects.
Cabinda: Road Traffic Safety
Cabinda: COVID-19 Community Mobilization , by all ADPP projects in Cabinda
Zaire: Community Control of Malaria
Uige: Community Control of Malaria
Malange: Community Control of Malaria
Luanda: Prevention of HIV
Benguela: Prevention of HIV
Cuando Cubango: Prevention of HIV
Huíla: Prevention of HIV
Cunene: Prevention of HIV
Namibe: Prevention of HIV
Huíla: Integrated Social Project, including Community Health Agents
Accreditation For Activists