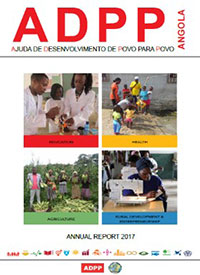 It is with great pleasure that we present our Annual Report 2017 in English. Click here to download or click on the image.
As we say in the report: our results come from the combined efforts of all involved: community members, project participants, students, teachers, staff and partners. A resounding thank you to each and every one, and we look forward to continued collaboration.
We'll be presenting highlights from the report on Facebook, Twitter and Instagram, so catch us there and let us know what you think.
The first year of training at the ADPP Teacher Training Schools is called The International year of the Teacher, and includes a 3 to 4-month study trip in Angola. Students travel by bus, camping along the way, meeting people from all walks of life. They get to know what matters to people, families, communities and begin to form notions of the role a good teacher can play. Team 2018 at the Teacher Training Schools started their education in February 2018. The 1100 students and 125 teachers will start their "Learning to Travel, Travelling to Learn" period at the end of May. This is the 6th team of students to undertake the period.
In April, the 125 teachers of 1st Year from all ADPP teacher training schools gathered at five of the schools, to discuss, prepare and carry out one of the key elements of the study trip. "Learning to travel and travelling to learn" encapsulates the idea behind the trip, and the idea behind the teachers' meeting was to ensure the best possible preparation for it.
ADPP Teacher Training Schools Kunene, Huambo, Kuando Kubango, Zaire, and Malange played host to Londuimbali, Kwanza Sul, Lunda Sul, Bié, Uige, Kwanza Norte, Luanda, Benguela, Cabinda and Caxito. After introductions and explanations, the teachers worked in small groups to discuss their chosen theme for investigation. They undertook background research, decided questions to ask, and began thinking about what they wished to achieve in the field. All of the themes were selected to give an insight into rural life, and the variety of conditions, situations and problems faced by the population. Teachers from Cabinda and Caxito, who met at TTS Zaire, encountered young children selling wares at crossroads, high levels of pregnancy among girls living near an army barracks, and young girls marrying transitory Brasilian roadworkers to help support the family.
Replicating both the 1st Year program activity, as well as the system of core groups and bus groups, albeit scaled down, the teachers worked together during three days of investigation in the field. They stayed with rural families in order to appreciate the wealth of information available first hand, and to gain a fuller understanding of the economic and social set up. They conducted interviews, filmed and photographed, and even got involved in the daily work of their hosts.
The final two days were devoted to preparing and presenting the results of the investigations, discussing lessons learned and proposing recommendations. There was no doubt that all participants learned a great deal over the six day course. They became acquainted with the realities of life in the villages and among the people under investigation, and perceived for themselves what their own students would come to experience. Above all, they recognized the importance of rigor at all stages, from preparation to implementation to presentation.
Read more here about one of the initial study trips which included travel throughout Southern Africa: Pan-Africanism in Teacher Training
ADPP Teacher Training Schools is called The International year of the Teacher, and includes a 3 to 4-month study trip in Angola and Southern Africa

Março é o mês da mulher. Celebramos nos nossos projectos em 18 províncias e em nossas mídias sociais.
Ao longo do mês, conheça todo tipo de mulheres: diretoras de escolas, líderes de projetos, agricultoras, estudantes, agentes de saúde, crianças. Elas vão falar sobre o que têm em suas mentes e nos seus corações, como elas lutam pela igualdade ou talvez apenas enviem uma saudação.
Ler mais aqui. Conheça-os também no Facebook, Twitter e Instagram
Participe da conversa: use as hashtags: #womenofangola ou #adppangola e vamos nós encontrar!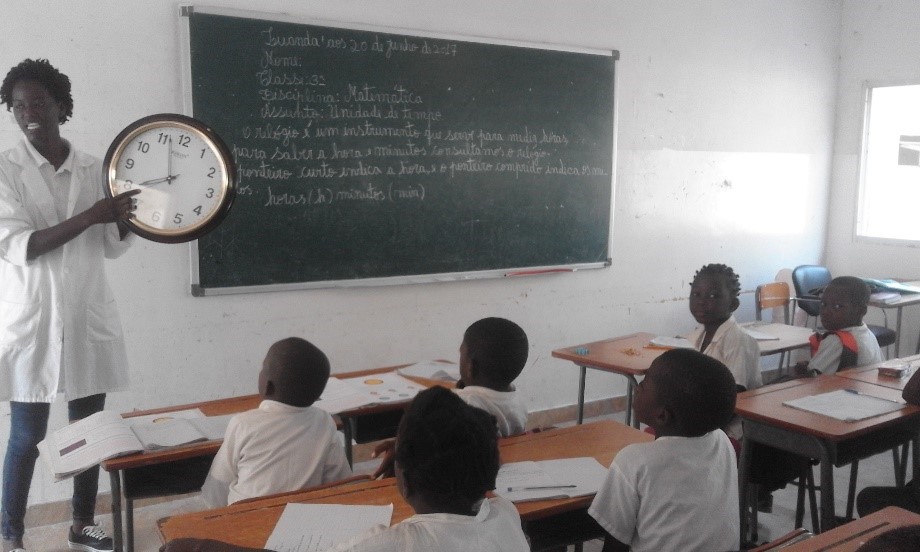 A taste for mathematics
Mathematics is the basis for our day-to-day life, because we find it all around us. As a trainee teacher, I ensured that my pupils learned mathematics and that they developed a taste for the subject in practical classes
As teachers within the classroom, we first sought to know what the pupils like to do. Many said they enjoyed singing and playing. Therefore, after listening to the pupils, we looked for forms of games and songs that connected the discipline of mathematics to the other disciplines. We investigated some songs with numbers and games with a math element, for example games such as bingo. We also considered team quiz games, and with small prizes such as a pencil, notebook, or lollipop so the pupils tried their hardest to win. In addition, we showed how mathematics is used in everyday situations, like doing mental calculations when buying and selling products, or the geometric shapes in a room or outdoors, such as triangles, rectangles, and squares.
"A Practical Math Book" helped us a lot. We used it in clubs at our school, and then at the school where we did teaching practice.
Inclusive Education: steps I have taken to help pupils with problems
Inclusive Education is education that does not separate pupils with special needs from other pupils, but supports their specific problems.
As a student in my 2nd year of teacher training, I completed my teaching practice at Primary School 2068 in Ramiros. There, we found children with a variety of disabilities, such as physical deficiency of upper or lower limbs, and pupils who could not keep pace with their classmates.
During teaching practice, we were three students accompanying a class teacher, so it was very easy to give support to the children who needed it. My colleagues and I worked together with the head teacher find a strategy on how to help the pupils with these characteristics.
In the classroom, the teacher usually taught the class, and we paid close attention to the weaker pupils. We provided a more personalized support. The same went for physical education classes, where there were pupils with physical weaknesses, so we joined in the activities so that the pupils included their weaker classmates in the team.